New dean of academics loves teaching for the 'moments of magic'
NYHS' newest addition is a passionate educator and talented artist.
Lindsey Mutschler is the new Dean of Academics at Northwest Yeshiva High School. She will support the faculty, oversee curriculum development, and she may even teach some courses.
Mutschler's official first day as an NYHS Lion was February 22. Although it is unusual for faculty to start in the middle of the academic year, NYHS Head of School Jason Feld said the timing was purposeful. "When I initially interviewed Ms. Mutschler, I was thinking about her beginning in the summer, and in the course of our discussions it made a lot more sense for her to start at the end of this year to really get to know the school, the teachers, the students, so that we could really hit the ground running at the beginning of the summer," Feld said. 
After completing her undergraduate degree at Western Washington University in Bellingham, Mutschler moved to Seattle and found a job at Lake Washington Girls Middle School. "We had about 50 students when I started, so that's one of the reasons I'm really excited to join NYHS," Mutschler said. "[NYHS is] a small community, and I loved what was possible in a small community. I loved that I knew all my students, I knew their stories, I knew their families, I knew their passions and their talents."
For 14 years, Mutschler taught art, history and literature. For the last five years, she has also worked as an administrator, working with teachers and building school curriculum. "I realized that I love teaching kids and students directly in the classroom, but I love teaching teachers even more," Mutschler said. "I've spent the last five years working with teachers specifically on developing and growing their teaching practice." 
Mutschler's administrative experience will be beneficial to NYHS. For now, she is going to ease in and get to know the school. "I'm going to take some time to just observe the culture and the classes and the teaching, and talk to students to see what's working that we can cultivate and nurture," Mutschler said. "I really see my job as taking care of some of the noise and business of school so that [teachers] can focus on being experts in the classroom."
Feld has been wanting to find a Dean of Academics for a while now, but at the time of Mutschler's hire, NYHS was not conducting an active search. "It wasn't a sudden 'we need it now', but the opportunity presented itself and it just made sense," Feld said. He calls a Dean of Academics "a key piece of the school, being able to support both new and veteran teachers." 
Feld was impressed by Mutschler's role in growing Lake Washington Girls Middle School. "She understands the importance of a school having a strong and clear mission and vision as an essential component to a good education," Feld said. "In meeting with her it became clear she is a real expert in curriculum design and supporting teachers in the classroom." 
Mutschler's favorite part about working in a school are the moments of magic. She particularly loves "when there's a lightbulb that goes off for a student, when there's an exchange of ideas," Mutschler said. "Where students—and adults—come together to share ideas and opinions, and at the end of that you may leave with a different opinion than the one you came with, because of the voices around you."
As a child, Mutschler dreamed of becoming a musician. She ended up studying art and music education at Western. Teaching seemed like the best way to put her skills to work in a reliable job. I "started to really be excited by the idea of how I could work with youth, in particular, on cultivating their creativity and their passions and their talents," Mustchler said. 
In her free time, Mustchler paints and creates scientific illustrations. She loves painting bones, fossils, plants, and other natural objects. She recently completed a mural at a salon on Capitol Hill. She also has a knack for graphic novel art. "I had a past life as a comic artist, so when I was teaching art, one of my favorite classes to teach was graphic novels and comic drawing," Mutschler said. 
Mutschler is excited to join NYHS because of its clear mission and purpose. "You are creating a positive Jewish experience for students to have a positive sense of identity, self, and impact on the world," Mutschler said. "I'm really drawn to that sense of purpose and that sense of mission to do good." 
Leave a Comment
About the Contributors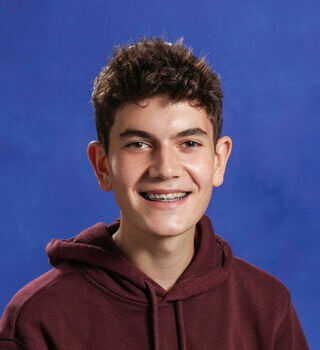 Harrison Feld, Editor-in-Chief
Harrison Feld is a senior at NYHS and the editor of The Mane Idea.