2022-23 NYHS basketball season comes to an end
The NYHS basketball teams made it unexpectedly far into the season, despite the girls playing with five players and the boys playing without an injured key player. The girls finished 4-4 while the boys finished 4-8.
Coming into this year, the boys didn't think they would make it far after losing five key players who graduated last year. However, the team made it to the second round of playoffs, losing to Crosspoint (52-60) on February 7th.
Co-captain Joe Benoliel feels the boys had a great season and accomplished a lot. "I feel like it was a good season," he said. "People said we wouldn't win any games, but we won some games and our team improved a lot. We were a different team compared to our first game." 
At the beginning of the girls' basketball season, there was confusion over who would be the coach and a risk of not even having a team. With a coach secured, the girls started winning their games after some initial losses, eventually making it to the fourth seed. They went through the playoffs before losing 24-59 at tri-districts to Darrington.
In addition to winning the sportsmanship award for their 1b/2b Sea-Tac league, sophomore Paulina Gamel earned the Sea-Tac league award. The team was recognized for its sportsmanship toward other teams during games, while Gamel was recognized for her outstanding skills.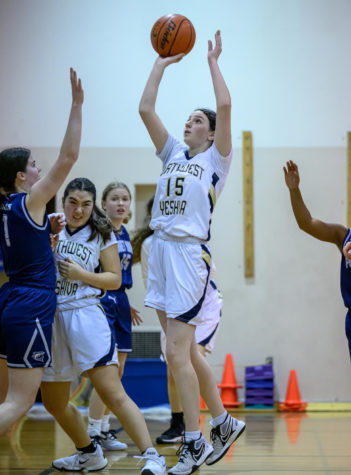 Captains of the girls' basketball team are happy with how the season ended, said junior team captain Leah Menashe. "Being on the team reminded me how much I love basketball and that everyone on this team is very special. I'm proud of the team," she said. 
The boys were doing well at the start of the season, winning their first game. But at the peak of the season, sophomore Ben Weichbrodt, one of the key players, fractured his ankle. 
After Weichbrodt's injury at Muckleshoot Tribal School, the boys experienced a rough patch. The boys pulled through and started winning their games again, and in their first round of playoffs, they beat Quilcene 83-60. This occurred after playing Quilcene already and only winning by one point. The boys then made it to the second round of playoffs after they won their first game and lost the second to Crosspoint (52-60). This was a hard loss for the team since last year they lost the championship game to them. Co-Captain Daniel Negrin said, "The season was a lot better than expected. We strived and pushed ourselves. It was a great season." 
Looking into next year, four seniors from the boys' team will be graduating. However, Negrin, who also won a Sea-Tac league award, said that next year he wants "the team to work together more and develop stronger relationships and win." 
Next year, the girls won't be losing any players. "I would like to see another strong team come through, I would like to recruit more girls and have a bigger team," said Menashe. Junior team co-captain Rose Clayman agreed. "Overall, we had a major success," she said. "I'm excited for next year."
Leave a Comment