NYHS cross-country is in full swing
The small team is already showing its strength.
The NYHS cross-country team runners made idle chatter while they stretched in the brisk air on a recent Thursday. The team consists of four students, Merav Frank (12th grade), Isaiah Gabbay (12th grade), Rebecca Benezra (11th grade) and Avital Aronov (9th grade).
The year is starting out with promise. Benezra was nominated by NYHS Athletic Director Ashford Jackson and English teacher/cross-country coach Marcy Park as athlete of the week on September 15th and was recognized by the Washington Interscholastic Athletic Association for her achievements. "It's very exciting and encouraging, because I have dedicated a lot of time and effort to this season and last season," Benezra said. "It feels very great to have that effort validated in such an outward way."
Benezra has been running since sophomore year and she said that at the beginning the races were intimidating, but the award affected her positively. "It kinda changed my mindset because after having done that, which I think was genuinely really tough for me," she said. "It makes other things seem not so hard anymore. Like now I'm looking at 6.2 miles, and I'm like, huh, maybe I really could do that."
Benezra says that having such a small team can have its downsides, such as having a variety of different skill levels. Park and Benezra both talked about how during practice it can be hard to find someone to run with. When there's such a small team, runners may not have the same skill levels. Benezra still prefers it, because with a smaller group more friendship can be formed.
Park started her running career in 7th grade, when her mother wanted to get her into an activity after she started a new school in Hawaii. She ran cross country from 7th grade to senior year and had multiple athletic and coaching positions at other schools. During her third year at NYHS, the former coach left, and she offered to take up that role of cross-country coach.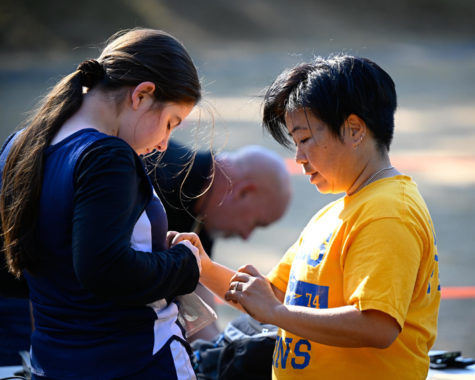 Both Park and Benezra said that one of their favorite parts of cross-country is the supportive nature of the running community. Park spoke about how many other sports include a lot of trash talk, but the running community is very supportive. She relayed an anecdote about one of the team members staying alone and another runner from a different school talking to them and seeing him open up to the other runner. Park smiled as she spoke about how she loved to see her team bond with others and form connections to the other runners.
The team practices everyday and runs about 1-3 miles around Mercer Island. Benezra says it started off easy, with the runs being only a little more than a mile, but now the practices are becoming more rigorous. They run on different types of terrain some days it will be lots of uphill while others it may be mostly flat. They are given less challenging practices the day before races and they have a relaxing day off after the day after the race.
Benzera is excited for the season to continue. She said she has met amazing people and is looking forward to growing closer with them. Park is looking forward to her runners competing at tri-districts and seeing the progress they make. "I would highly encourage people to run cross-country especially if they're not participating in spring sports," she said. "There are so many benefits in terms of being able to set goals for yourself and actually see progress and accomplish them….and it's good because you have the opportunity to shine individually, and if we have enough runners, the opportunity to shine as a team."
Leave a Comment