The remarkable journey to state
The NYHS boys basketball team made history last weekend by reaching the state tournament for the first time. 
The Lions earned a spot in the State Semifinals after beating Naselle on March 3rd and Willapa Valley the next morning. "I'm very proud of us for making it this far, but am very disappointed because I know we could have done better," co-captain Victor Maimon said. Their hopes at a championship fell the next day after losing to Almira-Coulee-Hartline on Friday, March 5.  
In their final consolation game on March 6th, the Lions, unfortunately, lost against Sunnyside Christian and ended the tournament in fifth place, the furthest any NYHS boys team has ever been.
"I'm coming back to school with mixed emotions," Maimon said.
The opportunity to represent the Jewish community left the boys feeling honored. "I feel really proud," said Maimon in an interview with King5 news. "All of us play in our kippot every game. People know that we're Jewish. We not only want to do well on the court, but to be respectful to the other team and the referees – to represent Jews and our school and this community. It means a lot."
This isn't the first time an NYHS team has made it to state. In 2010, when the girls went to the state tournament, one of their games fell on the Fast of Esther, and they needed to forfeit because of the difficulties which would come along with playing while fasting. 
This year, the boys were pleasantly surprised to see how accommodating the WIAA (Washington's governing body of high school sports) was by changing their schedule so that the boys would not have to play on Shabbat.
In the regular season, the team went (12-2), winning the district championship after beating Mount Vernon Christian. Throughout the season, NYHS athletic director and boys basketball coach Ashford Jackson worked hard to keep the boys motivated and encouraged them to continue playing together as a team, play loose, and keep up the camaraderie. "This group of boys is special because of their natural ability and talent to know exactly what to do if something goes wrong; they know exactly how to turn it around for our advantage," said Jackson. 
The majority of the team has been playing together since third grade at Seattle Hebrew Academy. The starters, seniors Victor Maimon, Yoel Kintzer, Shimon Rosenbaum, Dovi Goldberg, and Eli Weiss, struggled as freshmen and sophomores.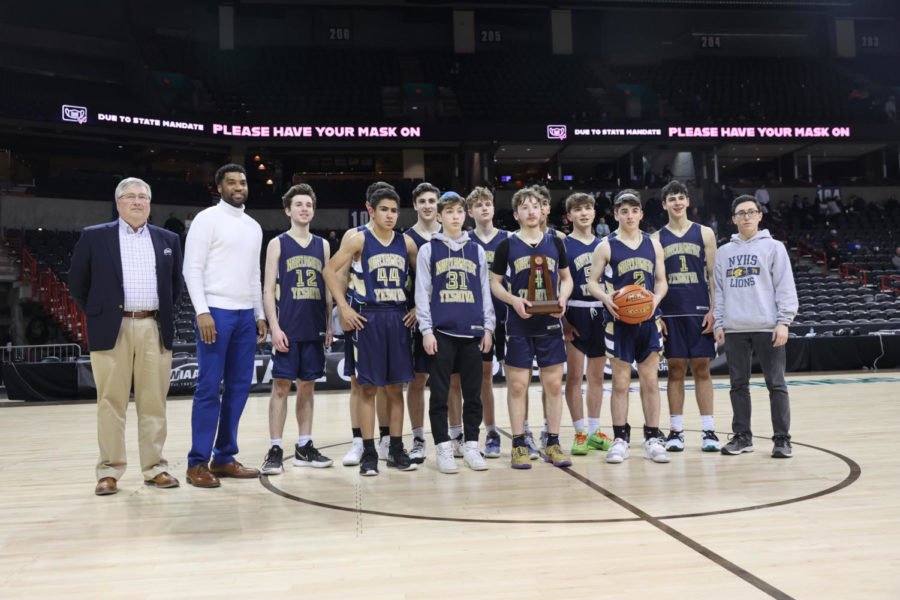 "We played a lot freshman year and got all of this experience together, which helped us and shaped us," said Maimon. "After our first two years of high school, we began to show our commitment and determination by watching films and practicing every weekend with a much less lax practice environment so that we could really be serious about basketball."
The journey to state began when co-captain and MVP Yoel Kintzer led the team to its 1B District Championship title. "When we worked hard together and practiced a lot, the games became a lot less challenging," Kintzer said.
The Lions secured their first state win in a 9am game against Naselle, 60-48. NYHS continued to dominate by defeating Willapa Valley 50-40 the following day. Yoel scored 24 points and Eli had 14. After their two wins, the Lions played against top seed ACH and lost by 9 (52-43). The Lions ended the tournament with a loss to Sunnyside Christian (44-38) but impressively finished the tournament in fifth. 
 "I thought we had a good chance at state but at the end of the day we were exhausted, and all our starters felt drained from playing 4 back-to-back games each day," said Kintzer. 
Click here for a highlight reel of the entire tournament (courtesy of @nyhsseattle – Instagram)
Leave a Comment