During a recent visit by therapy dogs at NYHS, freshman Daniel Galili couldn't help but exclaim, "It's the happiest I've been all month."
The school welcomed the therapy dogs from Assistance Dogs Northwest on Wednesday as part of its plan to help students cope with the terror attack in Israel. 
The NYHS community felt the impact of the tragedy in Israel. Many students and staff at NYHS have personal connections in Israel, including alumni and community members who are serving in the Israel Defense Forces. Senior Leah Menashe's older brother is currently serving in an IDF combat unit. "I'm extremely proud of my brother, and all the brave soldiers who are defending our country," she said. 
On Sunday night, as soon as Simchat Torah ended, the NYHS Administration got to work figuring out how to support Israel, as well as provide emotional support to the community. 
The school now recites Tehillim (Psalms) as part of daily prayers, and staff members give uplifting speeches about Jewish unity and the importance of staying strong and aiding Israel in every way possible to boost the students' spirits such as divrei Torah about unity.
NYHS Tanach and Holocaust studies teacher Mrs. Hannah Hason created a video for NYHS friends and family living and serving in Israel featuring messages of support from students and teachers as well as a montage of students energetically waving Israeli flags in a display of solidarity.
On Tuesday, in order to support the soldiers and civilians in Israel, NYHS held a day of chesed (kindness) during the advisory period organized by physiology and chemistry teacher Ms. Paige Reed and Talmud and Torat Chaim teacher Rabbi Tzuri Hason. Students broke into groups around Torah learning, raising money for Israeli emergency organization Magen David Adom, making video messages for soldiers, writing letters and making videos for alumni in Israel, saying Tehillim, and writing letters to soldiers.
Over $30,000 has been raised by the NYHS Magen David Adom fundraising group. Senior Jenna Kaufthal, head of Chesed Club, as well as senior Josh Benezra, led the Magen David Adom group in raising money for Israel's ambulance service. Kaufthal was impressed with how quickly people wanted to start helping Israel. "From when the war started, I saw a lot of students and teachers coming together," she said. "I was shocked with how many people wanted to be involved and help. There were even people wanting to raise money before the deadline we set. I noticed a lot of freshmen and other new students who wanted to support Israel." 
During this time, NYHS has worked to provide sufficient mental health support to students in need. NYHS guidance counselor Sivan Komatsu and principal Deirdre Schreiber spoke to the student body about limiting exposure to distressing, and even traumatizing content, and suggested temporarily deleting social media accounts. 
"Please delete social media, that is one of the best things you can do for your mental health right now," said Komastu. "There's a lot of really graphic horrible footage being shared on social media platforms like Instagram and TikTok and viewing them is not helpful for anybody. We can stay informed and up to date with what's happening without needing to watch these things." 
On October 9th, the broader Seattle community gathered for a vigil in support of Israel. "The event was truly inspiring and rekindled my faith in the future of our Seattle Jewish community," said senior Josh Benezra. Benezra explained that there is an inherent connection between Jewish communities in Israel and the diaspora, and when unified, they present a stronger front against anti-Semitism, ensuring the security of their campuses, and operating more efficiently to help Israel. 
In an effort to keep the school community updated on factual information regarding the war, NYHS history teacher Dr. Sam Timinsky created a Google form where students can pose anonymous questions and receive trusted sources and answers. These questions are posted and answered in a newsletter shared with students, faculty, and parents. Timinsky says he created it because, "there was a lot of concern flying around, both for parents, kids, and the school about what information was coming to y'all, and at the same time, you, the student body, and the teachers are thirsty to know what is happening." He also explained that it gives the students the opportunity to stay up to date with verified sources of what's going on without risking seeing horrible things on the internet.
Initially, the school maintained its regular workload, however, the administration lightened the load after students and parents shared the stress students were feeling. "I appreciated the school's efforts to create a less stressful environment after what happened," said Benezra. 
Komastu emphasizes the importance of preserving a sense of normalcy and routine while also working with students' needs. "We're trying to maintain the balance of keeping things normal and routine because that's really important, and also understanding that things really aren't normal right now," said Komatsu. 
One thing Komatsu initiated into NYHS's plan to support students was bringing in therapy dogs. According to the National Library of Medicine, "interactions with a therapy dog can significantly reduce self-reported anxiety and distress levels."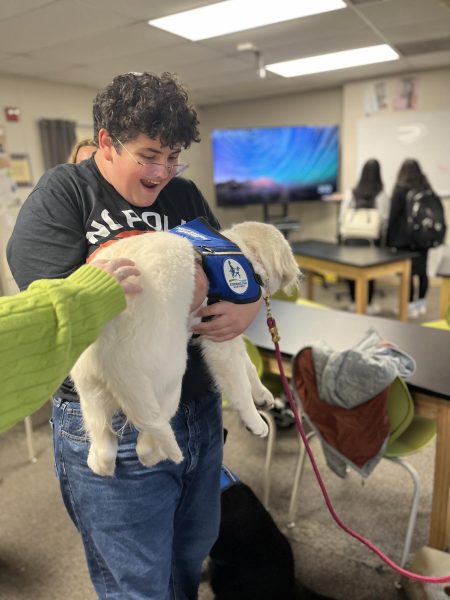 "It was so nice to have the dogs," said Menashe. "It made me so happy and I really appreciated how we could have them come for us in such a rough time; I think it really helped people."  
Additionally, Rabbi Hason planned an event to provide support for our students, their families and any Jewish Israeli families within the Seattle community. This event was to strengthen unity and solidarity during these challenging times. Rabbi Hason emphasized the importance of this event because Israeli Jews in public schools are often subject to more harassment than encouragement. "It's a lot of Jews here, and I support them, and other people support them," he said. During the event, StandWithUs, a prominent organization dedicated to educating and inspiring American Jews that partners with NYHS came to show support and share their initiatives. As part of the gathering, NYHS presented videos made for soldiers, sang songs accompanied by English teacher Mr. Andrew Kaplan's music on the piano, led tefillot (prayers), recited Tehillim (Psalms), and said Divrei Torah (words of Torah). Rabbi Hason collaborated with Mrs. Hason, Mrs. Jacoby and Rabbi Rothstein to ensure that this event was both meaningful and unifying for all participants. 
In yet another display of unity and solidarity, NYHS gathered with Jewish middle schools around Seattle including Seattle Hebrew Academy, Menachem Mendel Seattle Cheder and Torah Day School. This event took place at SHA, where students gathered together to learn Torah and recite Tehillim.
Komatsu is in the process of organizing different programming and services for students from outside organizations and mental health providers such as bringing in more mental health providers to provide some crisis support and short-term support both individually and in groups depending on what the needs are. 
"I want students to know there's no normal or right way to respond to all of this," said Komatsu. "Everything you're feeling is valid."